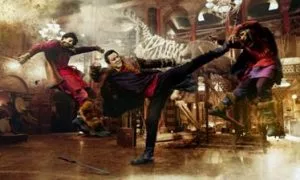 Quinta-feira, 18 de outubro às 22h10
A melhor ficção de artes marciais numa sociedade feudal em que o mais forte e violento acede à riqueza e ao poder, produzida pelos AMC Studios
A terceira temporada ganha novos protagonistas: Sherman Augustus, Babou Ceesay, Ella-Rae Smith e Lorraine Toussaint como atores permanentes e Dean-Charles Chapman e Lewis Tan como atores convidados
A civilização, tal como a conhecemos, deixou de existir, destruída por uma sucessão de catástrofes naturais provocadas pelo Homem. Como vimos nas temporadas anteriores, ao longo do tempo emerge uma sociedade feudal em que o mais forte e violento acede à riqueza e ao poder. Esta terra é conhecida como Badlands e é governada por sete barões rivais. O AMC estreia a 18 de outubro, às 22h10, a primeira parte da terceira temporada da sua série original 'Into the Badlands'.
Depois da morte de Veil, Sunny vive fora do radar e esforça-se para dar o melhor a Henry, o seu filho. Porém, quando Henry contrai uma misteriosa doença, Sunny une forças com Baijie e regressam a Badlands, onde A Viúva e o Barão Chau mantêm uma longa guerra que desestabilizou a região.
Sem o apoio de Tilda e Waldo, a Viúva tem de encontrar novos aliados em Lydia e Nathaniel Moon – o antigo regente que perdeu a mão num confronto com Sunny e Baijie. Mas quando um líder nómada chamado Peregrino chega a Badlands com a missão de restaurar Azra e assinalar o início de uma nova era de paz, os velhos inimigos têm de se unir para defenderem Badlands.
No primeiro episódio, 'Enter the Phoenix', Sunny retorna a Badlands em busca de uma cura para o seu filho Henry. A Viúva e Chau travam uma sangrenta guerra civil. Surge uma nova ameaça. Em 'Moon Rises, Raven Seeks', o segundo episódio, Sunny e Bajie pedem ajuda a Lydia. A Viúva luta para controlar M.K. e Pilgrim procura estabelecer uma nova ordem em Badlands.
Daniel Wu (Sunny), Aramis Knight (M.K.), Emily Beecham (A Viúva), Orla Brady (Lydia), Ally Ioannides (Tilda) e Nick Frost (Bajie) mantêm-se no elenco, mas a série ganha novos protagonistas: Sherman Augustus (Moon), Babou Ceesay (Peregrino), Ella-Rae Smith (Nix) e Lorraine Toussaint (Cressida) como personagens permanentes e Dean-Charles Chapman (Castor) e Lewis Tan (Barão Chau) como atores convidados.
'Into the Badlands' é realizada pelos criadores, produtores, showrunners e guionistas Alfred Gough e Miles Millar ('Shanghai Noon', 'Smallville'); pelos produtores executivos nomeados para o Oscar® Stacey Sher e Michael Shamberg ('Pulp Fiction', 'Contagion'), além de Karen Richards e Michael Taylor; pelo realizador de cinema de artes marciais Stephen Fung ('Tai Chi Zero', 'House of Fury') e Daniel Wu ('Tai Chi Zero'). O cineasta espanhol Paco Cabezas, que dirigiu vários capítulos na T2, será novamente realizador nesta temporada.