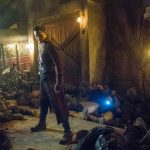 A segunda temporada da série original do AMC 'Into the Badlands' chega ao fim com um episódio épico que estreia em exclusivo quinta-feira 25 de maio, às 22h10. Neste sangrento capítulo final, que se intitula 'Wolf's Breath, Dragon Fire', Sunny enfrenta o desafio mais duro da sua vida. Ao mesmo tempo, a lealdade de Bajie suporta uma provação definitiva
Produzida pelos AMC Studios, a segunda temporada começa com Sunny e M.K. separados, cada um deles aprisionado em locais recônditos. Enquanto M.K. luta por controlar os seus poderes, Sunny está determinado em regressar a Badlands para encontrar a sua família ou morrer a tentar. Na sua viagem, Clipper e Colt são ajudados por novos aliados com motivações bastante duvidosas. Por outro lado, A Viúva continua a consolidar o seu poder relativamente aos barões. Ao mesmo tempo, uma ameaça obscura e misteriosa prepara-se para executar uma vingança contra todos. A destruição das alianças e a traição das amizades alteram dramaticamente a vida dos protagonistas.
'Into the Badlands' é realizada pelos criadores, produtores, showrunners e guionistas Alfred Gough e Miles Millar, e pelos produtores executivos nomeados para um Óscar, Stacey Sher e Michael Shamberg, o realizador David Dobkin, o diretor de artes marciais para cinema Stephen Fung e Daniel Wu ('Tai Chi Zero').
'Into the Badlands' é protagonizada por Daniel Wu ('Tai Chi Zero') como Sunny; Marton Csokas ('The Lord of the Rings: The Return of the King') interpretando a Quinn; Aramis Knight ('The Dark Knight Rises') como M.K; Oliver Stark ('Luther') como Ryder; Emily Beecham ('28 Weeks Later') como La Viuda; Orla Brady ('Dr. Who', 'Fringe') como Lydia; Sarah Bolger ('Once Upon a Time', 'The Tudors') como Jade; Ally Ioannides ('Parenthood') como Tilda; Madeleine Mantock ('Edge of Tomorrow') como Veil; Stephen Lang ('Avatar', Don't Breathe') como Waldo; y Nick Frost ('Shaun of the Dead') como Bajie.